Tensoval duo control – provides reliable blood pressure monitoring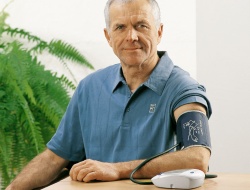 Tensoval duo control with innovative Duo Sensor Technology combines two advanced monitoring techniques, the oscillometric and Korotkoff method. It provides accurate readings and is easy to use.
While most automatic self-monitoring blood pressure devices only use the oscillometric method, the Duo Sensor Technology primarily measures blood pressure with the very accurate Korotkoff method. Oscillometric readings are provided only in exceptional cases. The high accuracy, extra-large digital display and a memory for 2x30 measurement values also make Tensoval duo control easy to use.
The Korotkoff' method ensures high measuring accuracy and functional reliability and is ideal in the treatment of a wide variety of heart rhythm disorders. Doctors use a stethoscope to detect the Korotkoff sounds and measure blood pressure. Duo Sensor Technology also utilizes this process making it particularly suitable for persons who need accurate readings. This is especially important for persons with high blood pressure because drug treatment can only be optimized when accurate blood pressure values are known. In addition, many patients with specific types of heart rhythm problems can now obtain accurate readings using an automatic blood pressure monitor. As the microphone is integrated directly into the device and not in the cuff, malfunction through improper handling is reduced. Duo Sensor Technology thus provides accurate readings and is easy to use.
The oscillometric technique is a blood pressure monitoring method where pulse waves (caused by arterial pulsation) and not sounds are detected. A processor calculates the most likely blood pressure values based on an algorithm. The measurements are therefore performed indirectly, whereas the Korotkoff method monitors blood pressure directly from the artery. The oscillometric technique is not as accurate as the Korotkoff method but is suitable for persons with very low pulse sounds.
So both measuring methods perfectly complement each other and the device automatically applies the appropriate method for accurate determination of values.